The Lauren Currie Twilight Foundation was established with a number of aims. And one of those was – and is – to facilitate research into vasculitis.
As a small charity, we need to prioritise our work. And our priority will always be with providing support for people who are living with vasculitis. But whenever we can, LCTF supports research projects.
Research is vital in gaining more understanding about vasculitis in its many forms. It helps patients and healthcare professionals treat and manage the condition. Research can open up new forms of treatment, and provide better patient outcomes.
And ultimately, we hope that research will find a cure.
In the meantime, we use current research findings to inform our support services and residential courses, to make sure we're offering the best resources and support we can.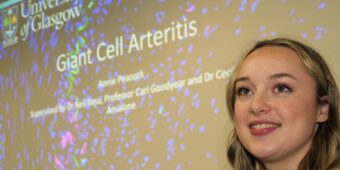 Projects funded or supported by LCTF:
Project: PhD Studentship contributing to the discovery of next generation drug targets for Giant Cell Artheritis (GCA), A. Peacock.
Duration: 3 years
LCTF Funding Award: £70,000 over a 3 year period
Project Information:
This project is funded by the Lauren Currie Twilight Foundation and is part of a greater collaboration of vasculitis research within the Institute of Infection, Immunity and Inflammation that aims to discover and validate biological targets across immune-mediated disease.
GCA is the most common form of primary vasculitis. It causes inflammation of arteries of the scalp and head and may result in catastrophic blindness and reduced life expectancy. This project aims to understand the tissue heterogeneity in GCA by directly interrogating the patient's diseased tissues using biopsy samples. To identify key pathways and genes involved in the inflammation in situ, we will perform spatial
transcriptomic analysis on GCA biopsy samples. These studies will be carried out under the supervision of Professors Neil Basu and Carl Goodyear in collaboration with Dr Nigel Jamieson at the Institute of Cancer Sciences.
We aim to further integrate spatial transcriptomic to single-cells imaging and sequencing (RNAscope multi-plex and single-cell RNAseq) to discover novel mechanisms of disease and identify potential biological targets.
Student: Annie Peacock
Project: Exploring the role of stems cell in vasculitis
N Basu, D Kidder, C De Bari
Duration: June / July 2017
LCTF Funding Award: £10,000
Project Information:
Stem cells safeguard tissues and organs throughout life by replacing specialised cell types. Their investigation is helping better understand the reasons underlying why multiple conditions develop and progress. Moreover, in many clinical areas of study they are now considered important therapies of the future. As yet, their potential in vasculitis has yet to be explored. We will undertake some preliminary experiments on stored vasculitis-afflicted tissue samples to identify and characterise the stem cells relevant to these disorders.
Project: Improving Quality of Life Study With ANCA Associated Vasculitis, Dr Neil Basu & University of Aberdeen
Duration: 2 Year – Commencing January 2015
LCTF Funding Award: £17,000
Project Information:
The Lauren Currie Twilight Foundation has agreed funding for a new wellbeing research study for Vasculitis patients with the University of Aberdeen. The research will be led by Dr Neil Basu, Senior Lecturer & Honorary Consultant Rheumatologist based at the Aberdeen Vasculitis Clinic.
There have been recent studies on factors which affect the quality of life with Vasculitis patients. This new epidemiological study will focus on psychological and quality of life factors. The study will seek to deliver evidence-based results that will support new health care provisions.
Project: Paediatric Drug Trial for Treatment of Polyarteritis Nodosa (PAN) – UCL Institute of Child Health & Great Ormond Street Hospital.
Duration: 1 Year – Commencing July 2013
LCTF Funding Award: £15,000
Project Information:
The trial will take place at selected Centres of excellence in the UK and across Europe, with a track record in treating children with Polyarteritis Nodosa (PAN), and will be done in association with UK clinical networks and the Paediatric Rheumatology International Trials Organisation (PRINTO). This drug trial is funded in collaboration with Arthritis UK, Vasculitis UK and The Lauren Currie Twilight Foundation.
Currently, children with PAN are treated with Cyclophosphamide (CYC) which has been the main treatment for more than 30 years, unfortunately, this treatment requires to be administered intravenously which requires a hospital stay. It also has a number of long-term, life-changing side effects, which include malignancy, infertility, sickness, haemorrhagic cystitis (bleeding from the bladder), low white cell counts and infections.
The alternative drug to be tested is Mycophenolate Mofetil (MMF), although there is limited clinical experience with this drug, its side effects are less severe.
Project: Diet & Nutrition Resources for Vasculitis Patients in association with Immunosuppressive treatments – Nutrition Diet Resources UK (NDR)
Duration: 2 Year – Commencing April 2013
LCTF Funding Award: £3,528
Project Information:
This study commissioned by The Lauren Currie Twilight Foundation developed nutrition and diet resources specifically on modifying diet to moderate side effects of the main drug treatments for Vasculitis.
Providing patients with facts about nutrients and their role in auto-immune disease and Vasculitis such as vitamin D, antioxidant vitamins, prebiotics and probiotics, omega-3 fatty acids, herbal remedies, nutritional supplements and over the counter remedies.
Project: Professor Lars Erwig & University of Aberdeen
Duration: 3 Years – Commencing October 2012
LCTF Funding Award: £42,860
Project Information:
The Lauren Currie Twilight Foundation has funded a three-year research project with the University of Aberdeen. The research funds a PHd Research Student using Live Cell Imaging to Study the Evolution and Pathophysiology of Autoimmune Disease.
This project will take advantage of a sophisticated live cell imaging platform to study interactions of immune cells (macrophages and neutrophils) with vascular endothelium in patients with autoimmune disease (with a focus on anti-neutrophil cytoplasmic antibody-mediated vasculitis).
The state-of-the-art live cell imaging platform has previously been very successfully used to study cell-cell interactions in infectious diseases and will now be applied for the first time to a Vasculitis research project. The research will seek to develop biomarkers for patients with complex life-threatening diseases to assess activity and optimize their immunosuppressive treatment.
About us
Find out who we are and what LCTF does.
What is vasculitis?
Find out what vasculitis is and what a diagnosis means.
Get in touch
Find out how to reach us to find out more.