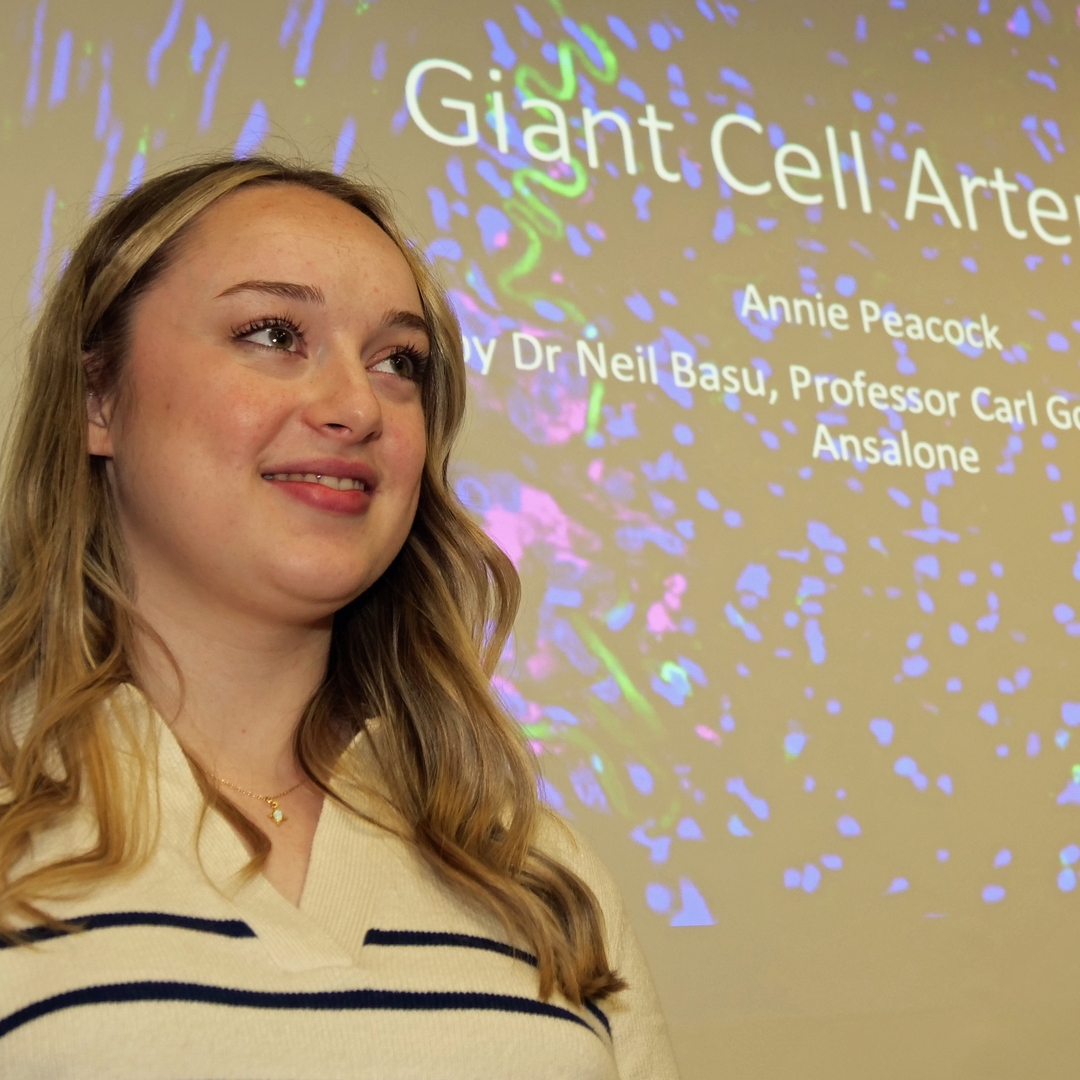 The Lauren Currie Twilight Foundation Studentship:Drug target discovery in Giant Cell Arteritis.
Annie Peacock is the PhD student who will be contributing to the discovery of next generation drug targets for GCA. This is a 3 year project which has been funded by LCTF. Congratulations to Annie who introduces herself in the blog below. There is currently a display of research on the walkway outside the Glasgow Science Centre where you can view the project. 
My name is Annie Peacock, I am 23 from Glasgow and I am in my first year of a PhD funded by the Lauren Currie Twilight Foundation. I was introduced to vasculitis from a very young age when my father was diagnosed with ANCA positive vasculitis. This led me to study immunology at Glasgow university, where I achieved a first-class degree. During my undergraduate degree I discovered a passion for research. Particularly, translational research.  I, therefore, went on to study a master's in research at Newcastle University before returning to my hometown to study this PhD.
My PhD project aims to generate a better understanding of the progression and cells involved in giant cell arteritis (GCA). GCA is a large vessel vasculitis and is the most common form of vasculitis in Europe, yet very little is known about how it affects people differently or how we can develop targeted treatments. This project interests me as I have seen my father have various treatments for his vasculitis, including steroid treatments. Often steroids come with a multitude of side effects which can reduce the quality of life of those who are prescribed high doses. High doses of steroids are currently the best treatment for GCA, therefore it is incredibly important that we increase or knowledge of the disease and therefore develop new treatments. By increasing the knowledge of the disease, potential treatment targets and can be discovered.
I am aiming to increase this knowledge by making a human 3D model of a vessel in which I can study the cells and pathways involved in the disease. I will also be studying biopsy samples from GCA patients in order to understand the difference between GCA in arteries in the temple and the aorta. Hopefully, providing information on how to develop target treatments for these variations in the disease.