If you're avoiding any unnecessary trips out, or if you need to self-isolate, you may find yourself relying more on what you have in the store cupboard.
Here are a few tips to buy sensibly and still ensure you have as healthy a diet as possible:
Make a list of what you have to start with – you might be surprised just how much you have – and remember this includes the cupboards, home baking items and the freezer.
Once you know exactly what you have, work though each food group to stock up.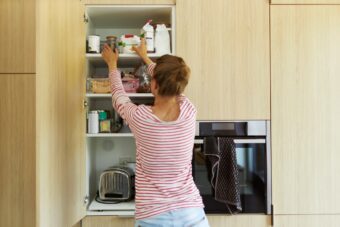 Have a look at our suggestions below for ideas and advice on what to add to your shopping basket or keep in your cupboard:
Examples include bread, breakfast cereals, oats, rice, pasta, potato, couscous.
Buy a few wholemeal, white or sourdough loaves and freeze them so you can take out the required number of slices every day.
Different types of bread give variety rather than the same type every day.
Most other starchy foods have a long shelf life (including potato) so keep a variety of these, as well as frozen potato products.
We always try to encourage fresh fruit and vegetables as part of a healthy diet – but remember that frozen varieties are just as nutritious.
If you're able to 'grow your own' this would be an ideal time to get started as access to fresh fruit and vegetables could be significantly affected in the coming months and also tending a new vegetable plot could be a welcome distraction!
Tinned fruit in juice (or in syrup* if this is all that is available), tinned tomatoes and vegetables are all good choices to have in the cupboard.
*Be careful with sugar if you are diabetic and drain syrup from tinned fruit.
All kinds of tinned fish – like tuna, salmon, mackerel and sardines – are healthy store cupboard items that can last for months.
Don't forget tinned ham, pâté, red kidney beans, baked beans, chickpeas or soups such as lentil, pea and ham, scotch broth or chicken and vegetable as protein foods.
Frozen meat including good quality sausages, fish and poultry are also good choices – remember to defrost thoroughly before use.
Milk, cheese and yogurt tend to be used as a fresh food – but remember cheese is matured for many months and so long as wrapped well and kept in the fridge it can last quite a few weeks.
A few cartons of UHT milk are useful if your fresh milk runs out – once opened it needs to be stored in the fridge and used as fresh milk.
UHT yogurts are available, though generally not widely, and so a few good alternatives could be ready-to-use UHT or tinned custard, rice pudding or sugar free jelly.
Keep a supply of flour, caster sugar, margarine, eggs and you can make sponge cakes, cupcakes, flapjacks, fruit crumble and pastry for sweet or savoury dishes.
This could also be a good time to remember all those old cooking skills we have lost, as everything is so easily available ready-made, and you may rediscover how much you enjoy cooking!
We also have factsheets on eating well with vasculitis and food guidance to help overcome the side effects of drug treatment. You can download these in our factsheet section.
Get information
Get information about vasculitis, what a diagnosis means and the treatments involved.
Get support
If you have vasculitis, we can help. We offer a range of practical and emotional support you can access.
Donate
Everything we do is made possible by donations. Please help us help people with vasculitis.