Marysia has been living with vasculitis (Granulomatosis with Polyangiitis, GPA) for over 20 years.
I first suffered from the disease about 20 years ago. I had several episodes of general malaise, sickness and inertia which became more and more alarming. At first the GP was at a loss, but eventually I was referred to Aberdeen Royal Infirmary (2002) since blood tests suggested an anomaly in kidney function. Following a biopsy, the diagnosis was that I was suffering from a form of Vasculitis described as Wegner's Granulomatosis (now politically correctly known as Granulomatosis with Polyangiitis). Following a succession of medications and continued observations of the condition, life returned to normal for a time, but my remission didn't last and further episodes occurred. This included Cerebral Vasculitis which turned out to be very alarming to say the least.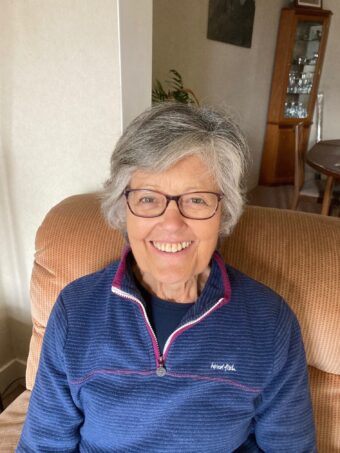 Due to the attention given at the time, and the improving treatments and knowledge of the disease now compared with 20 years ago, I survived the traumas. The only limiting factors in my fitness, at present, is in arthritic pains due to aging and my hip and knee replacements. Oh, and of course, the limitations imposed by the current Covid 19 pandemic. I managed a 7-mile cycle trip yesterday after some restrictions were lifted – not bad, I think, for a 71 year old, even although it is electric!
To summarise, today's knowledge has made a huge difference to the choice in medications available and, although I know the disease is still there and may complicate my life again, it's not affecting life in general – excepting the daily doses of pills I must remember and the current, frustrating shielding regime. I've been lucky with the expertise shown by Aberdeen Hospital NHS and let's not forget the Lauren Currie Twilight Foundation's contribution in bringing together both patients and medical staff in the experiences shared with the disease.
Maybe I'll see you there one day.
Marysia
Get information
If you've just been diagnosed with vasculitis, we can help you with information about your condition and treatments.
Get support
If you're affected by vasculitis, we can help. We offer a range of practical and emotional support.
Get involved
Donate, fundraise, volunteer or take part. Help us support people with vasculitis.